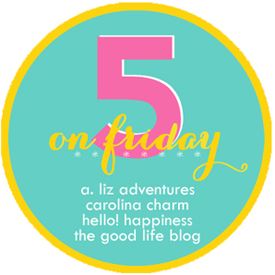 SO happy it is Friday! I have been fighting this nasty cold and I am determined to get rid of it this weekend!
-ONE- One of my beautiful best friends, Loretta, had her birthday on Sunday! Hopefully we can get together soon to celebrate! Love you girl! Hope you are loving being 23 so far!
-TWO- I am SO excited about my new planner! I can't wait to start using it! One of my goals for 2014 is to get more organized and this baby is going to help me do that! Woot woot!
-THREE- My dear friend Mandy was such a huge support to me on my wedding day! Not only was she an AWESOME personal attendant but she also took pictures of us getting ready and some candid shots for me before my photographer arrived. Well, a few days ago she found some pictures in her dropbox from the wedding and sent them to me. I was SO excited because on our wedding day, when JP and I had our first look, our photographer only got my reaction on camera. I was kind of bummed about this because I was really looking forward to seeing JP's reaction to when he saw me in my dress for the first time. Well.... it just so happened that Mandy took pictures of JP when we had our first look! I was SO pumped! I love how they turned out and it is so fun to see his face when he saw me! THANK YOU MANDY! You're amazing girl!
I love excited he looks!
-FOUR- I made this corn casserole on Wednesday night and it is A-MAZING! We have been eating the leftovers for lunch for the past couple of days and I think both JP and I will be pretty depressed when it is all gone. I will post the recipe soon!
-FIVE- JP and I have been going through the book Real Marriage by Mark and Grace Driscoll and it is incredible. In addition to the book you can listen to his sermons based on the chapters. It has brought up such helpful topics and questions and we have really grown even closer in our relationship since reading it. We have learned so much and it has definitely been beneficial for our marriage and our friendship. I would definitely suggest it!
What books have you read that have been helpful in your marriage?